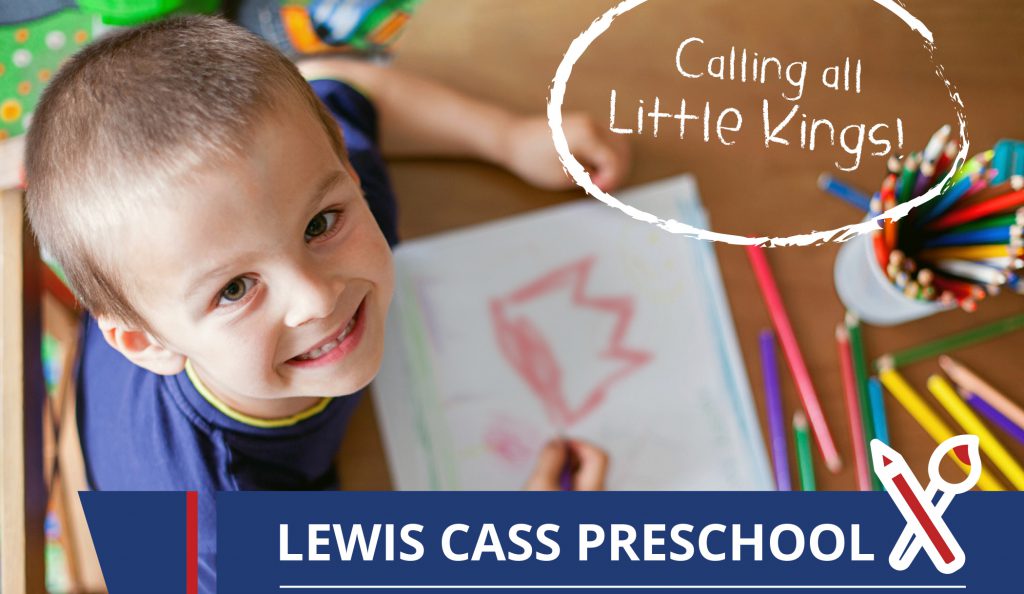 Little Kings Preschool
Lewis Cass Schools are now accepting applications for preschool  for students who are ages 4 and 5 (must be age 4 by 
August 1st
). This is on a first come first serve basis and space is limited to 60 students.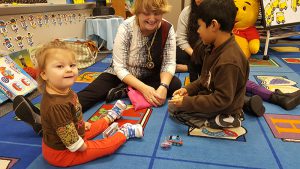 Things to Know…
Child must by 4 by August 1st

*Full Day Preschool begins at 8:00am and ends at 2:00pm
*Half Day Preschool begins at 8:00am and ends at 11:00am
*Affordable tuition rates
*Full Day students can purchase lunch at the current elementary school lunch prices.
*Bus transportation is not provided


*Special Education services are offered for qualifying students at no cost

For More Information…*Call the Preschool at (574) 626-3001


*Email the Preschool Director at

johnsona@lewiscass.net
What do I need to do to get my student signed up for preschool?
 You will need to register your student online to attend the preschool. Computer will be available at each  location for your convenience if you do not have one available.

Lewis Cass District Office – 100 S. Main, Walton, IN
Lewis Cass Elementary School – 6540 E. St Rd 218, Walton, In

NEW TO THE CORPORATION – Please contact Lewis Cass Elementary at (574) 626-3001 OR the administration building at (574) 626-2525 to get a username/password to register your student online.
CURRENT PARENT – If you are a parent with a student currently in the district and would like to add your child you need to call the elementary at (574) 626-2504 to have the new student added to your account, then complete the registration process.

Areas of Focus for a Successful Student at Lewis Cass Preschool
We will focus on five key areas: academics, arts, motor skills, relationships, and play while having FUN! All of these areas combined give your child the best pathway for success. Your child may be strong in some areas, but need work in others. Our goal is for every student is to be proficient in every area.
Academics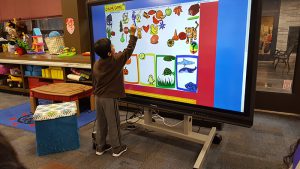 Early reading is a predictor of later success in life, so being able to get ahead or catch up in preschool is key. We know focus on cognitive areas such as ABCs and 123s matters enormously. For example, how well a child reads at the end of first grade predicts how well they read in later grades, graduation rates and even their income level as an adult. Lewis Cass will help ready your children to advance beyond age norms, but also nurture children who are behind so they catch up in these early years.

Art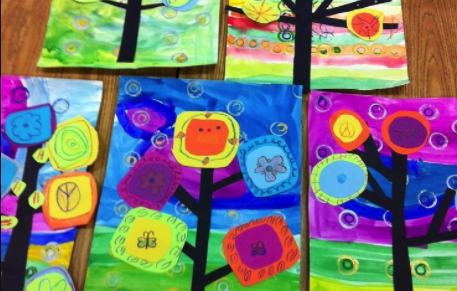 Art is an important part of your child's early childhood education, regardless of whether you think he will grow up to be another Picasso. Children are active learners, and making art is a hands-on activity that expands imaginations and exercises creativity. It also develops small motor control and eye-hand coordination, and sharpens children's powers of observation.

Motor Skills
Just as gross motor skills enable your child to perform important everyday tasks, such as getting out of bed and going downstairs for breakfast, fine motor abilities allow for increasing independence in smaller but equally significant matters: opening doors, zipping zippers, brushing teeth, washing hands, and so on.
When combined with increasing hand-eye coordination, fine motor skills also open new doors to exploration, learning, and creative expression. In fact, research shows that emphasis on purely intellectual activities—memorization of letters and numbers, for instance—is far less useful at this stage than pursuits that encourage fine motor abilities and hand-eye coordination.
Relationships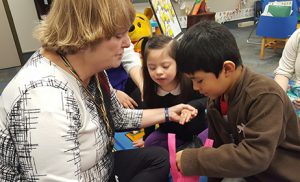 The connection between child and teacher is more important than any curriculum. This is what every parent knows by instinct: nice teachers matter, especially for very young children. This is first time in many instances that your child will be separate from you for any extended period of time. It is very important that these new adult relationships with a teacher be nurturing and positive.
Play and having FUN!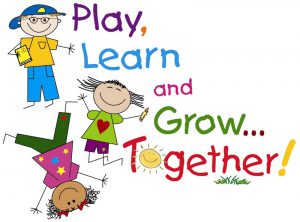 Most parents assume if there is a focus on ABCs and 123s, it is drill and kill, and there is little room for play. Great preschools do both, and success in the early years of a child's education often allows children opportunities to explore the building blocks of literacy and math through play.
Other kinds of play are just essential as well. Imaginative play, for example. Some form of daily "pretend play" improves emotional/behavioral skills. And emotional/behavioral skills predict academic performance later. When you visit the school, look for a costume corner, art up on the walls, pretend kitchen sets and pairs or small groups of children working together creating and collaborating.
Some sort of physical play helping children develop gross motor skills matters, too. There is a direct correlation between the gross motor skill development of a preschooler and long-term health.